"A cottonball's throw from New Mexico, this tiny town delights with gorgeous vistas, homespun shopping, great bird-watching, and even better people-watching. Dina Mishev takes us down to Duncan.
Tucked alongside the Gila River, surrounded by cotton and chile fields, and ringed by peaks, Duncan is like a green jewel in the desert. That's what drew Deborah Mendelsohn, a former Hollywood producer, here in 2005, when the town was still more shabby than chic, dotted with abandoned buildings. But she discovered that despite its appearance, Duncan had a distinct energy—the 700-some quirky locals possessed a serious passion for the place."Read More
---
Arizona Highways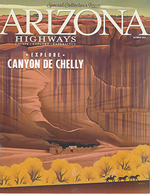 "A rooster's staccato proclamation punctuates the murmur of white-winged doves as the Simpson Hotel rouses itself to a new day. Morning here feels a little like Old MacDonald's Farm meets the Island of Misfit Toys. Located in the small agricultural community of Duncan, the hotel is home to aged roosters (two) and goats (three), plus eight rescued cats that have a house to themselves.
Beyond a shady courtyard, a shrine to San Isidro, the patron saint of farmers, guards the vegetable garden, housed in a structure built to resemble the ruins of a Spanish chapel. A porch swing hangs near a bed of roses, an apple tree and a hand-dug pond planted with papyrus and water irises, its tranquil beauty unfussy and slightly unkempt."
"Nearly everything about Humble Pie is, well, humble. The 513-square-foot building is sparsely decorated, with three picnic tables, a soda machine and a clock with a pizza face. It's almost as if owner Pete Roof put so much energy into turning out great pizza, he had nothing left over for decorating.
And great pizza it is. Located in the correspondingly small Southeastern Arizona town of Duncan, the tiny pizzeria draws customers from Silver City, New Mexico, more than an hour away. Its faithful includes truckers who happily detour off the interstate to get their fix."
---
"Let me tell you about a perspective-changing, paradigm-shifting roll through a spectacular region spanning two great southwestern states. Before you accuse me of hyperbole, ride this loop that combines Arizona's serpentine Coronado Trail with the alpine vistas of extreme western New Mexico. I believe you'll agree that your view of the ultimate motorcycle road has shifted."
---
The Eastern Arizona Courier/The Copper Era — Of Ongoing Interest
Feb 23, 2021 Common Crane Sighting in Duncan Stirring Excitement Among Birders
Oct 20, 2020 Petrified Dung to Fire Agates to Amethysts—Duncan Shop Has It
May 19, 2020 Day Trip—Gila River Birding and Wildlife Trail
The Eastern Arizona Courier/The Copper Era — Recent
Apr 12, 2021 Tiny Team Off and Running
Apr 9, 2021 Duncan Pharmacy Ready and Waiting to Fill Scripts
Mar 14, 2021 Duncan Residents Facing Higher Sewer, Water and Trash Rates
Mar 7, 2021 Duncan Council Members Debate Several Ways to Improve Finances in Sometimes Heated Meeting
Mar 2, 2021 Straight Talk About Duncan
Feb 23, 2021 Council Members: Town of Duncan on Verge of Slipping Over Cliff
Jan 27, 2021 Study Finds Duncan Good Place to Open New Businesses
Jan 19, 2021 Basteen: Jet Will Go Back Up Someday
Jan. 19, 2021 Behind Closed Doors: Duncan Woman Works To Save Local Theater Building
Jan 5, 2021 Morenci Brothers Bring Duncan Bakery Back to Life
Jan 4, 2021 Thatcher Twins Making a Name for Themselves With Videography Business [including a new video about Duncan]
"Duncan is a small farming town 5 miles west of the New Mexico border on Hwy 70 (Old West Highway). The town of Duncan was actually established in 1883 with the coming of the railroad, but the early settlement here was started in the 1870's along the Gila River on an important stage & freight route. Duncan is named for the managing director of the Arizona Copper Company, Duncan Smith."